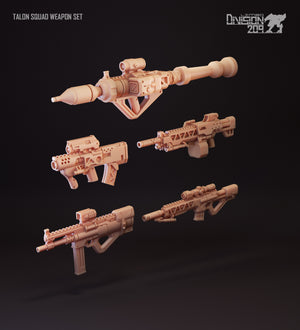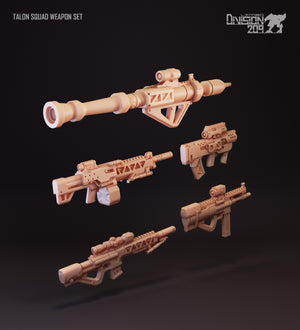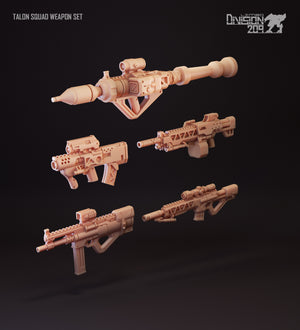 Free Talon squad weapon set (3D printing STL files)
The Talon squad has a wide range of light arms in its inventory. Most of them are produced by the Zbrojovka Brno company. The Zbrojovka Brno company is a weapon manufacturer with products covering light weapons, artillery and vehicles. The accurate, durable and easy-to-maintain firearms it produces have won many customers including the armies of the major kingdoms of the Old continent.
ZB 27 Light machine gun
7.92x57mm 90rounds/mag
This popular light machine gun has a simple structure and easy maintenance. It is equipped with a large number of armies from individual soldiers to vehicles.
ZB 38 Carbine gun
7.92x57 mm 30rounds/mag
The short barrel version of ZB 37 ​​rifle, ZB 38 fires standard rifle bullets, but has better handling than the ZB 37 automatic rifle. It is suitable for close combat in densely built areas. With the attached ballistic computer component, it can achieve similar accuracy as standard rifles at long distances.
HHAG-7 Hand held anti-armour grenade
100mm Rocket
Arming with smart warheads, the HHAG-7 can choose between high-explosive, armor-piercing, and air-burst modes. The armor-piercing mode has a maximum armor-piercing depth of 800mm; the high-explosive mode is suitable for achieving greater damage to buildings and light vehicles; the air-burst mode is good at attacking targets behind covers, or even attacking air targets close to the ground.
ZB 203 Shotgun/Grenade launcher
40mm 7rounds/mag
The ZB 203 has the ability to launch both grenade and shotgun ammunition. The destructive power of 40mm grenade is on par with the firepower of light mortars, which has both impact and airburst detonation modes. The large-caliber shotgun shell can penetrate body armor and light structure at medium distances
Vz.34 Sniper rifle
7.92x57mm 12rounds/mag
Vz.34 is the standard sniper rifle in the Eridu military. Although the accuracy is not the highest among its peers, it has excellent handling and a better fire rate.
This product includes:
35mm and 75mm printing files for
HHAG-7 Hand held anti-armor grenade 
ZB 203 Shotgun/Grenade launcher
ZB 27 Light machine gun
ZB 38 Carbine
Vz.34 Sniper rifle 
The files come with both supported and clean versions of the models.
Download link will appear after check out.
Term of use:
All rights reserved: This product is designed, sculpted, and owned by Limbodivision209.Ltd
Personal Use License Only
This file is for Personal Use only.

You can print the files but
You can't share, sub-license, sell, rent, host, transfer, or distribute the digital or 3D printed versions of this figure.