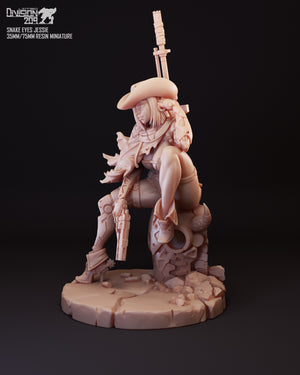 Snake eyes Jessie 35mm
Jessie Doris
Jessie Doris aka Snake Eyes Jessie was once a member of the Colonial Marines, but vanished following a classified mission. It wasn't until two years ago that she resurfaced as a bounty hunter of the GILA guild. With her impressive skills, she quickly gained recognition in the bounty hunter community, successfully completing numerous perilous missions. Jessie underwent extensive cybernetic enhancements, with prosthetic replacements for both arms and her right leg. Even her heart was replaced with biomechanical components, providing her with heart muscle strength surpassing that of an ordinary person several times. Combined with artificial adrenaline, this allowed her to gain explosive power and lightning-fast reflexes in a short time. Jessie's electronic eye granted her precise aim-lock capabilities, while her prosthetic arm provided stability, enabling her to accurately dispatch multiple targets in quick succession. Any adversaries who underestimated her and relied on numbers soon met their devastating defeat.
However, the prosthetic modifications had unintended side effects, causing Jessie's personality to become unstable. Her temper could easily spiral out of control, matching the explosive power of her enhanced body. This led to numerous unintended consequences, including a confrontation with the security department responsible for providing bounties. Medical expenses consumed almost the entirety of her earned bounty that time, compensating the police officers she had incapacitated.
Lately, Jessie's once-dominant presence has been overshadowed by another skilled bounty hunter named Ellen. Ellen repeatedly managed to seize the bounties that Jessie had targeted. Frustrated by this, Jessie exhausted most of her savings to acquire Arnold, a general intelligence AI, in an attempt to regain the upper hand in her rivalry.
This product includes:

1 x Snake eyes Jessie 35mm scale resin kit (with 30mm base)
1 x Diorama base 
1 x Serial number certificate and art card
1 x Folded design & story page
Steel collection case