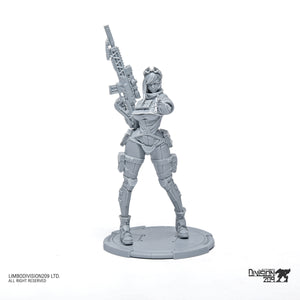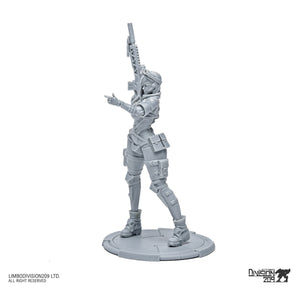 Nora Divišová Talon commander 75mm
Nora Divišová
Nora's background file shows that she was an adopted orphan who entered the Military Academy of the Eridu Republic at age of 18 and graduated with excellent grades. She could have been promoted directly to the headquarters of conventional forces and received a comfortable position in an army office, but Nora chose to join the extremely challenging special operation force department. Soon after she was enlisted, Nora was incorporated into the Talon task force, a secretly formed mixed human and cyborg division.
Each Talon unit is composed of 12 ECC (Enhanced Combat Cyborg) soldiers and a human officer. Although ECC soldiers can perform various tactical operations independently, considering the psychological problems of the cyberbrains caused by imperfect technology, the high command doesn't trust them. As a result, each Talon unit is under command of a human officer, who has the right to execute the decommission order: permanently shut down an ECC cyborg. Nora became one of the first officers to command such task force units.
Nora has a cold personality, and rarely expresses emotions to others. Her colleagues often joke that she is colder than an emotionless ECC cyborg. This personality enables her to stay calm in the direst circumstances and formulate optimal strategies as if there is never a fear of failure or death in her mind. In contrast to her cold touch with other humans, Nora seems to show more concern to the cyborgs under her command. She gives each ECC soldier a nickname instead of calling them by number and provides them weapons and gear according to their preference. She even encourages them to try to recover the memories they lost during their transformation to a cyborg. Nora's superior noticed her actions and warned her that once the cyborgs regained their memories, it might cause serious consequences. However, Nora's defense is that her methods can improve the mental stability of ECC soldiers and delay their inevitable brain death.
Through blood and dirt, Nora and her soldiers have experienced many battles together. Nora does not give up any chance to recover casualties and retrieve their cyberbrains at any cost. Each soldier acts like her own limb, and the whole unit is coordinated as though it is a single person.
This product includes:
1 x Nora Divišová  75mm scale resin kit (with 50mm base)
1 x Serial number certificate and art card
1 x Folded design & story page
Assembly instruction
Steel collection case