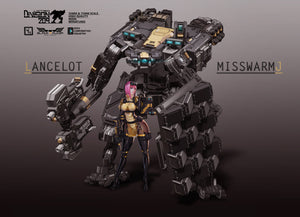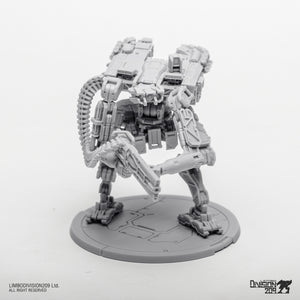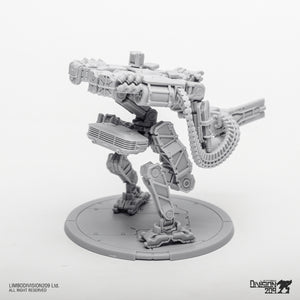 Lancelot & Misswarm J 35mm (00535)
Evaluation of MisswarmJ (J)
Born in a family of technology-antique merchants, J is an excellent old civilization scholar. Her expertise is in identification and usage of old civilization technology (OCT) equipment. The experience she received from her family and previous commercial adventures has proved to be valuable to our deep expedition missions. In the operation of the Gettysburg base, J successfully entered the base network and disarmed the automatic defence system, avoiding potential casualties. J is also helping us by equipping and maintaining some very useful OCT pieces, including a portable signals concealing device, motion detector and advanced anti-laser and particle reflector.
J has good training in small firearms and is able to use a variety of personal weapons and equipment for self-defence. However, compared to the risks she faces, these weapons do not have adequate stopping power. I believe to arrange Lancelot as J's escort is the best option. Lancelot's long-range operation ability and firepower can not only protect J, but also allow them to use certain stealth attack tactics.
It should be noted that according to our observations, the motivation for J to join Black Falcon is not money nor revenge, but to travel to deeper zones of the ruins. She tends to participate in all missions that can reach these areas. We should continue to monitor her actions and eliminate any potential risk that may effect on the success of our missions.
As her superior officer, I believe she is very useful for the missions that will be carried out by my unit, and I advise that we continue her contract.
Signed Major Schutz v. Bormann
Evaluation of Lancelot
Lancelot has adapted to his new M60 body and achieved unexpected performance during the tests, achieving a 20% higher accuracy rate over other M60 frame users when firing GAU-24 at a 1km range. Lancelot's shooting skill with auto-cannon combines with his ATGM-7 anti-tank missile, which allows us to deal with a wide range of targets at long range. The problem of insufficient defence in the M60 body has been improved with the addition of a M97 ERA COMBAT SHIELD. The reactive armor on M97 and the space between shield and body achieved good results in defending against large-caliber ammunition. Although the M97's standard pairing is an M52 submachine gun, Lancelot's extensive experience allows him to use a GAU-24 at the expense of some shooting accuracy while holding the shield.
Lancelot has done excellent jobs in all the missions he has been involved in. After the enhancement of MisswarmJ's electronic support, Lancelot can engage in flanking tactics while keeping stealth, taking advantage of all terrains and making precise shots. In the battle of Bloomfield , Lancelot ambushed and destroyed two robotic knights and many light armored vehicles through this tactic, which enablde us to repel the enemy's offensive with zero casualties.
Regarding the sentiment module, Lancelot's emotional status was decayed as he had not communicated with humans for more than 10 years before joining Black Falcon. This caused him to occasionally be unable to receive external orders and therefore could not cooperate with other combat units. This situation has been improved with the efforts of MisswarmJ. Currently, Lancelot's sentiment module is gradually repairing itself. We will continue to monitor the communication between Lancelot and J to evaluate the impact on his emotional status.
Lancelot's rich combat experience which he has accumulated over the past 200 years has made his performance superior to other M60 frame users. I strongly recommend that we retain his service in the current position.
Signed Major Schutz v. Bormann
This product includes:
1 x Lancelot 35mm scale resin kit (with 70mm base)
1 x Serial number certificate and art card of Lancelot
1 x MisswarmJ 35mm scale resin kit (with 30mm base)
1 x Serial number certificate and art card of MisswarmJ
Assembly instructions
Steel collection case