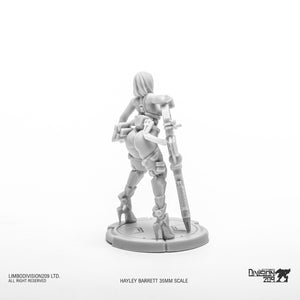 Hayley Barrett 35mm (00435)
Hayley was born in a farm family where her parents were first-generation immigrants to the colony village. Hayley's childhood was full of memories of bandits harassing their farm. During a conflict, her father took a shot in the arm. She picked up his rifle and repelled the bandits. After she turned into an adult, Hayley decided to join the Colonial Marines to protect those villages under the threat of bandits. Her past experience gave her a strong body and an independent character, which made her stand out among other recruits.

Hayley was quickly promoted to the rank of First Sergeant and received cybernetic enhancements that allowed her to carry a great deal of equipment while staying in mobile. As the fire support in the platoon, her armament is an M-182 self-stabilizing anti-materiel rifle: with a robotic arm connected to the gun, absorbs the recoil from shots, this large caliber rifle can fire continually without losing accuracy. Armed with depleted uranium rounds, the M-182 can penetrate light armor targets and obstacles from far."
This product includes:
1 x Hayley Barrett 35mm scale resin kit (with 30mm base)
1 x Serial number certificate and art card
Assembly instruction
Steel collection case