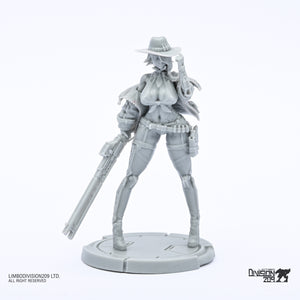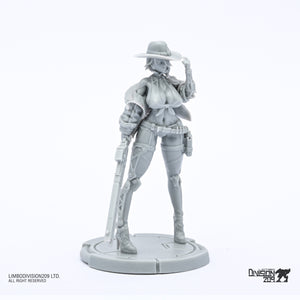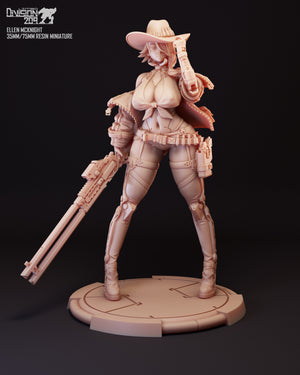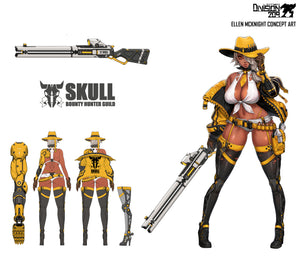 Ellen Mcknight 35mm
 Ellen McKnight
A former member of the Colonial Marine Corps, Ellen McKnight vanished after participating in a covert operation alongside Jessie as part of the Marine Corps Special Forces. Ellen resurfaced during her pursuit of Ugly Jack, the mastermind behind the Silverback heist. Seizing the opportunity created by Jessie's assault on the gang's base, Ellen stealthily eliminated Jack. When Jessie eventually discovered him, she realized that Ellen had beaten her to the punch. This pattern repeated in subsequent encounters, with Ellen consistently outmaneuvering Jessie. The common training and combat experience allowed Ellen to understand Jessie's tactics very well, and her excellent strategy allowed her to beat Jessie every time.
As a bounty hunter, Ellen also underwent numerous prosthetic enhancements. While not as extreme as Jessie's, her choice of high-quality prosthetics and equipment provided her with considerable advantages. She knew how to leverage these advantages effectively, turning the tide in her favor.
Within the Skull bounty hunter guild where Ellen found her place, she remains a mysterious figure. Most members only catch glimpses of her during bounty collections, and few have the opportunity to engage in conversation. She is generally perceived as reserved, but those who have managed to exchange a few words with her sense an underlying wisdom.
Considering their past connections and the frequency with which Ellen appears in Jessie's targeted bounties, it seems inevitable that a showdown between the two skilled bounty hunters is on the horizon.
This product includes:

1 x Ellen Mcknight 35mm scale resin kit (with 30mm base)
1 x Diorama base 
1 x Serial number certificate and art card
1 x Folded design & story page
Steel collection case