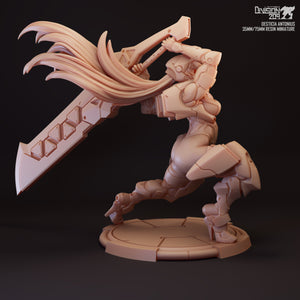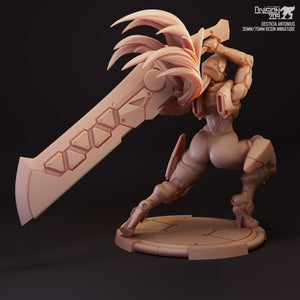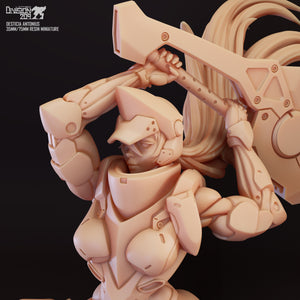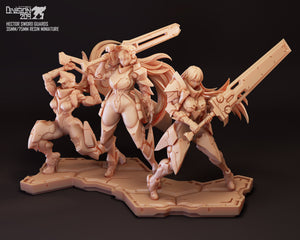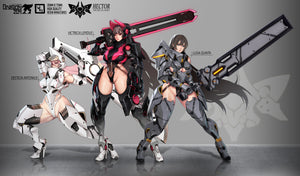 Desticia Antonius 35mm
Hector Sword Guards
Similar to the Achilles Spear Guards, Hector Sword Guards are the most elite royal force in the Kingdom of Tyre. Contrary to the combat style of the Achilles Guard, though, who focus on defensive formations, the Hector Guards are good at assault tactics. No matter the designs and sizes of the heavy swords the Hector Guards carry, they all use the plasma technology of the old civilization. When activated, the high-energy plasma floats above the blade's surface at a hair's breadth thickness. Its extremely high temperature can instantly melt and split alloy armor. To utilize these deadly melee weapons, the Hector Guards are equipped with exoskeleton armor, with multiple jet thrusters installed. Assisted by the strength boost provided by the suits, they are capable of launching the wearers into the air to perform a long jump, in order to get into melee range quickly. It's extremely difficult for the enemy to intercept them when the sword guards use their jumping capability to advance by hopping between areas of cover on the battlefield. During combat, members of the Hector Guards advance without formation, but use their own mobility to disperse in all directions, and then launch a simultaneous charge. This tactic makes it impossible for the opponent to concentrate their firepower in one area. Like the exoskeleton armor used by the Achilles Guard, the Hector armor does not rely on its inherent strength for defense, but uses a spatial displacement shield installed on the suit. In fact, in order to reduce weight and increase jumping distance, the Hector armor is thinner and lighter than the armor of the Achilles Guard.
This focus on attack and maneuver has formed the brave style of the members of the Hector Guards. They concentrate all their efforts on their aggressive assault tactics to annihilate the opponent at the moment of contact. Each member has different degrees of body strengthening and modification, especially the strengthening of leg muscles and bones, so they can withstand the impact of high-speed jumps. The Hector Guards wear almost nothing underneath their armor, not only to show off their proud buttocks, but also to help their bodies dissipate heat better.
Similar to the Achilles Guards, the Hector Guards are also composed of members of noble families. They represent the faction in the kingdom that supports the prince and opposes the king's group, represented by the Achilles Guards. Overt and covert struggles for power have strained their relationship. However, in the face of the threat of the huge army of the Republic of Eridu, Hector and Achilles are the two most reliable forces of the Kingdom's royal army. The rivalry between the two guards has turned into a competition on the battlefield, with each trying to prove their superiority over the other.
This product includes:
1 x Desticia Antonius  35mm scale resin kit (with 30mm base)
1 x Diorama base ( part of the full diorama base)
1 x Serial number certificate and art card
1 x Folded design & story page
Steel collection case